Social Phobias
ocial Phobias and anxiety. Social Phobias are common disorders found in about 10% of the population. They are characterized by an unreasonable fear of scrutiny, an intense reaction to embarrassment and anxiety performing in public.

These individuals feel they are constantly being evaluated by people around them. This can lead to social insecurity, stage fright, and other avoidance behavioral tendencies.

Cognitive symptoms can accompany physical signs such as hyperhidrosis (excessive sweating of the hands), intense facial blushing, increased heart rate, difficulty speaking and severe anxiety. Self awareness of these physical signs can lead to more anxiety and form a vicious cycle that is self-enhancing and self-destructive.

The problem can be self-perpetuating making day-to-day life activities, involving social interactions, dreadful tasks which can limit the person's choice of occupation, social interactions and intimate relationships.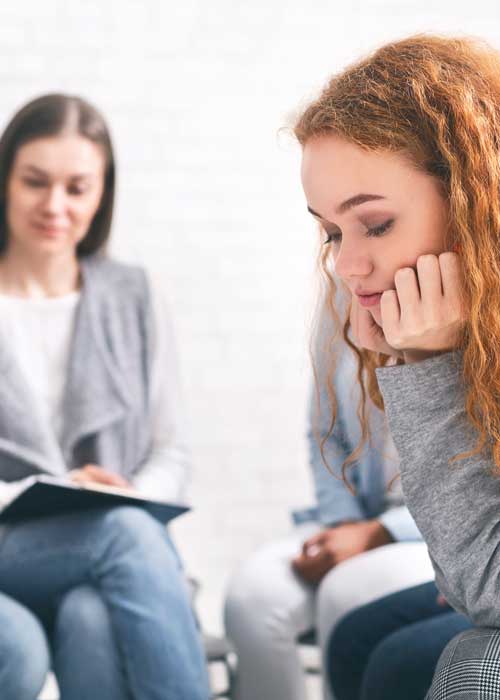 Exposure to certain social events such as public speaking, provokes anxiety responses.
This is accompanied by physical signs that are associated with increased activity of the sympathetic nervous system. These signs are characterized by hyperhidrosis which is excessive sweating of the hands, palpitations and tachycardia (racing heart), trembling voice, intense blushing and marked anxiety.

In some individuals, these symptoms are so severe that they result in gastrointestinal discomfort, diarrhea, muscle tension, lack of concentration, and even confusion. Adults with social phobia recognize that their fear is unreasonable, however, they are not able to control it. As a consequence, individuals with social phobia avoid these feared social situations.

Individuals also experience extreme anticipatory anxiety when they find themselves in a social or public situation that they are uncomfortable with. This again can lead to the physical signs of anxiety as described above.
Social phobia typically starts in the mid-teens; however, it can start in childhood.
The onset may follow a stressful experience in life, or it may start gradually as the person goes through humiliating experiences in life. Social phobia usually is a lifelong problem, which may attenuate in severity later in adulthood. Social phobia appears to be prevalent more in 1st degree biological relatives.
Treatments
Hypnotherapy, psychotherapy and cognitive behavioral therapy have proved to be helpful in the treatment of patients with social phobia. These treatments have to be explored before any attempts of surgery are made. However, these treatments are costly and are often insufficient to cure the problem. If untreated people with social phobia are also at a greater risk for drug and alcohol abuse.
ETS is a proven surgical treatment for hyperhidrosis and facial blushing. ETS has been shown in many cases to decrease the physical signs associated with social phobia. These signs are facial blushing, palmar hyperhidrosis, axillary hyperhidrosis, facial sweating, palpitation, tremor and cold hands. Even though ETS does not directly affect the cognitive aspect of social phobia, many patients who have undergone ETS have seen improvement in their lives due to a decrease in these physical signs and a consequent break of the social phobia vicious cycle.
Book Appointment
Book your appointment today and take the first step toward achieving benefit of our Hyperhidrosis treatment.

We provide the support and guidance you need to go through the treatment & heal.

Contact us today and let's get started!